Air Fryer Sugar Cookie Whoopie Pies
These Air Fryer Sugar Cookie Whoopie Pies are soft and tender with a sweet buttercream filling and rolled in colorful sprinkles! These sugar cookie whoopie pies combine my love for sugar cookies and cake-like whoopie pies. I mean, why choose if you don't have to, right?!
Making these cakey sugar cookies in the air fryer saves you time and gives the cookies a golden finish and crisp outer edge. Adapt these sugar cookie whoopie pies easily to suit specific holidays or special occasions.
WHAT YOU NEED TO KNOW ABOUT AIR FRYER SUGAR COOKIE WHOOPIE PIES
This recipe combines my love of two classic treats – tender and soft sugar cookies and cakey whoopie pies with sweet frosting filling!
Choosing a sugar cookie to replace the traditional whoopie pie cake-like layers was a no-brainer since these cookies are soft and tender.
Using my trusty air fryer, I got a batch of these mouth-watering sugar cookie whoopie pies cooked and assembled in less than 30 minutes!
WHAT IS A WHOOPIE PIE?
A classic whoopie pie comprises two cake-like layers sandwiched with a soft and sweet filling, typically some frosting. Whoopie pies are essentially a cakey version of cookie sandwiches.
ARE THESE SUGAR COOKIE WHOOPIE PIES SUPPOSED TO BE SOFT?
Sugar cookies are naturally soft and tender cookies which is why they are the perfect option for making this recipe since traditional whoopie pies are soft with a cake-like texture.
HOW SHOULD I STORE THESE SUGAR COOKIE WHOOPIE PIES?
These treats are best eaten immediately due to their soft filling. That said, these sugar cookie whoopie pies can also be wrapped with plastic wrap or aluminum foil and stored in an airtight container or Ziploc bag in the fridge for a few days or in the freezer for 2-3 months.
CAN I USE SUGAR COOKIE MIX FOR THESE WHOOPIE PIES?
Absolutely! A sugar cookie mix can be used when making these sugar cookie whoopie pies, but you will need to add a few other ingredients, such as the cream of tartar, to achieve a softer, cake-like texture.
WHAT VARIATIONS CAN I MAKE TO THESE WHOOPIE PIES?
Flavor the cookies with almond extract instead of vanilla extract. Other extracts could also be used to suit specific holidays or events.
Instead of vanilla sugar cookies, make chocolate cookie whoopie pies.
Change the flavor or color of the buttercream frosting by experimenting with different extracts and food colors.
Add chopped nuts or mini chocolate chips to the cookies.
Roll the assembled cookie whoopie pies in finely chopped nuts, such as pistachio nuts, themed sprinkles, or sanding sugar.
Shortening can be used instead of butter in equal amounts when making the cookies.
Add a pinch of cinnamon to the cookies for a touch of warmth.
TIPS FOR MAKING AIR FRYER SUGAR COOKIE WHOOPIE PIES
Apply the buttercream frosting gently when assembling these whoopie pies, as the cookies can be soft and crumble if too much pressure is added. You can pipe the buttercream frosting onto the sides of the cookies or spread the filling gently with a knife.
Making these air fryer sugar cookie whoopie pies is possible, although I recommend that you only make these a few hours ahead to prevent them from becoming overly soft by the time they are served.
While I've made my own frosting from scratch, you can also purchase different kinds of frosting for convenience.
It's important to flatten the cookie dough balls slightly as they won't spread much when cooking in the air fryer.
Sifting the powdered sugar when making the frosting will help prevent lumps or a grainy texture.
Add more milk to the frosting if it's too thick or more powdered sugar if it's too thin.
You can easily double this recipe to serve a larger crowd. If you do, cook them in batches.
Don't overcrowd the air fryer basket. The cookie balls need enough space to cook evenly and get a delicious crispy outer crust.
More Cookies You'll Love
Yield: 16 Whoopie Pies
Air Fryer Sugar Cookie Whoopie Pies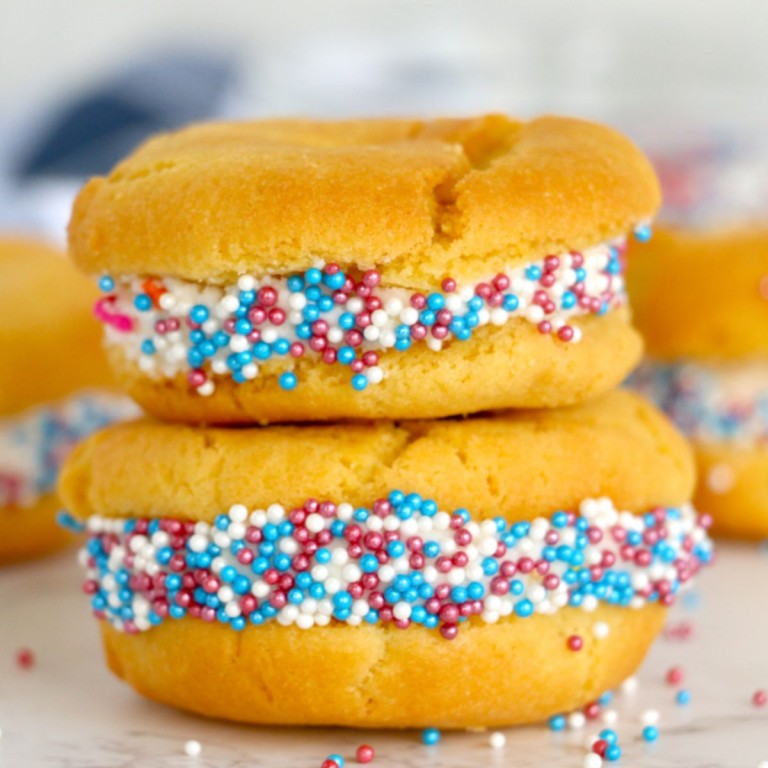 These Delicious Chewy cookies made in the air fryer filled with homemade sweet cream are simple to make and the kids love them!
Additional Time
5 minutes
Ingredients
Cookie Ingredients
1 1⁄4 cups sugar
1 cup butter, softened 3 egg yolks
1 tsp vanilla
2 1⁄2 cups flour
1 tsp baking soda
1⁄2 tsp cream of tartar
Frosting Ingredients
1⁄4 cup butter, softened
2 cups powdered sugar
1 tsp vanilla
2-3 tbsp milk
Sprinkles of your choice
Instructions
In a large mixing bowl, cream sugar and butter together. Add egg yolks and vanilla. Beat again.

Add flour, baking soda, and cream of tartar. Beat again.
 Form dough into tablespoon size balls and flatten them gently.
Place them in an air fryer basket lined with parchment paper 2 inches apart. You will have to bake these in batches.
Air fry at 350ºF for 7 minutes or until golden brown and slightly cracked on top.
In a medium mixing bowl, cream butter and powdered sugar together. Add 2 tablespoons of milk and vanilla. Beat well. If it is too thick, add more milk. If it is too thin, add more powdered sugar. Before icing cookies in the center, be sure to allow cookies to cool off completely.
Place sprinkles in a shallow bowl.
Make whoopie pies by filling two cookies with frosting.
Roll each whoopie pie in sprinkles to coat the edges.