Air Fryer Spaghetti Squash
Air Fryer Spaghetti Squash is a delicious side dish and easy low-carb recipe. It's a good low-carb alternative to pasta and great for those following a keto or paleo diet! BONUS it's super easy to make and done in less than 20 minutes!
Spaghetti squash is a health freak's dream come true. It's a pseudo-pasta that is gluten-free, grain-free, and low-carb. Plus, it tastes pretty darn good. Naturally, it has a milder flavor than regular pasta. Still, it takes on the flavor of whatever you pair it with. And did I mention that it's super easy to make?
I recently discovered that you could cook spaghetti squash in an air fryer, and it has quickly become my favorite way to prepare it. All it takes is some short minutes in the air fryer, and you've got a healthy, delicious side dish or main course.
Why We Love About Air Fryer Spaghetti Squash?
The love for spaghetti is real in this house. Whether doused in marinara sauce or smothered in cheese, we can't get enough of the classic Italian dish. But there are a few reasons why we love spaghetti squash lately.
First, it's a healthier alternative to regular spaghetti noodles. Spaghetti squash is lower in calories and carbohydrates, but it's still packed with fiber.
Second, cooking spaghetti squash in an air fryer produces a crispy, delicious dish. There's no need to worry about the squash being soggy or mushy.
Third, the nutrient value of spaghetti squash is pretty impressive. It's a good source of vitamins A, C, and B6, potassium, and manganese. So, you're getting those antioxidants and essential nutrients while satisfying your pasta craving.
How to Pick a Spaghetti Squash?
There are mountains of this nutty-flavored veggie all over supermarkets in the fall, so how do you pick the best one? Here are our top spaghetti squash shopping tips:
Pick a spaghetti squash that is heavy for its size.
Check for any bruises or nicks on the skin of the squash.
For the best flavor, look for a squash that has a deep yellow color.
Avoid any squash that has green spots or is overly soft.
If you can, choose a smaller squash, as they tend to be more tender.
Now, let's break out the yellow gourds and get cooking! Here's how to make spaghetti squash in an air fryer.
How to Make Spaghetti Squash in an Air Fryer?
Ingredients:
Spaghetti squash: Choose a small to medium-sized one, depending on your air fryer's capacity
Avocado oil or olive oil: Oil helps the squash cook more evenly, giving it a crispy exterior
Kosher salt: It'll slightly season the squash, elevating the flavor
Black pepper: I prefer using freshly-grounded black pepper. It has a more potent flavor
Garlic powder optional: Although optional, garlic gives a really nice flavor to the dish. And the aroma, while it's cooking, is heavenly
Paprika Optional: Paprika adds a little bit of sweetness and smokiness to the dish
Crushed red pepper optional: If you like a little bit of heat, add in some crushed red pepper
Italian seasoning optional: Brighten and enhance other flavors by sprinkling some dried herb seasoning
Instructions
Step 1:
If your spaghetti squash is slightly too big for your air fryer, place it on a cutting board and cut the ends off of your spaghetti squash.
Then slice your spaghetti squash in half longways with a sharp knife – do this carefully because it will be hard.
You can microwave your squash for a few minutes to make it easier to cut.
Scoop all the seeds out with a large spoon from the inside of the squash and discard.
Step 2:
Next, place the squash halves in the air fryer basket and drizzle them with oil and spices.
If you have to, put the second half of the spaghetti squash in sideways oil and season it before putting it in the air fryer basket.
Cook for 18 minutes at 380F. You'll know the spaghetti squash is done when a spoon or fork easily goes through the flesh of the squash.
Step 3:
Carefully remove the squash from the air fryer because it will be hot. Hold onto the squash with a pot holder and scrap out the flesh into long strands.
Mix it around with a fork to evenly spread the seasonings. Top with parsley.
FAQs
What Pairings Go Well with Air Fryer Spaghetti Squash?
Now that you know how to cook spaghetti squash in an air fryer, it's time to get creative with your pairing options. The beauty of spaghetti squash is that you can easily dress it up or down, depending on your preference.
For a classic spaghetti and meatballs dish, top cooked squash with your favorite marinara sauce and cooked meatballs.
If you're looking for something different, try a pesto sauce or a creamy alfredo sauce. Top with grilled chicken or shrimp for a protein-packed meal.
You can even use this veggie as a base for a hearty soup.
Tip: Herbs and spices such as garlic, basil, oregano, and black pepper are all great additions to spaghetti squash. Just don't add too much, as the squash is quite mild in flavor.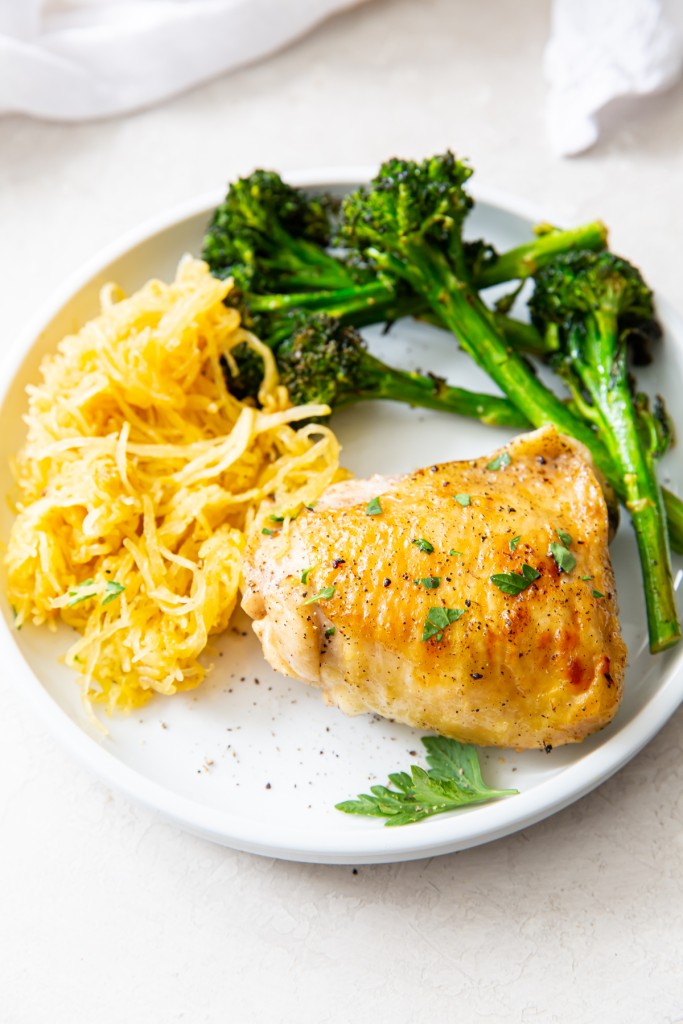 How Long Can You Store Cooked Spaghetti Squash?
You can store cooked spaghetti squash for up to four days. Use an airtight container to keep it fresh in the fridge.
Can You Freeze Air Fryer Spaghetti Squash?
Yes! Spaghetti squash can be frozen for up to six months. Just place cooked squash in a freezer-safe bag or container. When ready to enjoy, thaw in the fridge overnight and reheat.
How to Reheat Spaghetti Squash?
The best way to reheat spaghetti squash is in the oven. Place reheated squash on a baking sheet. Now, bake at 350 degrees Fahrenheit until warmed through. You can also use a microwave for the task.
If you're using a stovetop method, add a little water to the pan to prevent the squash from drying out.
The good news is that spaghetti squash won't get mushy when reheated, unlike regular spaghetti noodles. So, you can cook in advance and enjoy it all week long.
Are Spaghetti Squash Seeds Edible?
Yes! Spaghetti squash seeds are not only edible, but they're also quite nutritious. They're an excellent source of protein, fiber, and healthy fats.
To cook spaghetti squash seeds, start by removing them from the squash. Rinse the seeds and then place them on a baking sheet. Bake at 375 degrees Fahrenheit for about 10 minutes or until they're crispy.
You can also cook them on the stovetop. Just heat a tablespoon of oil in a pan over low-medium heat. Add the seeds and cook for about 10 minutes, stirring occasionally.
Once they're crispy, remove them from the heat and season as desired. We love adding a little bit of salt, pepper, and chili powder.
No matter how you choose to eat it, preparing spaghetti squash in an air fryer is a healthier and tastier option than traditional spaghetti. So, give it a try tonight!
More Delicious Air Fryer Recipes