These air fryer pizza wontons are a great way to feed a crowd at a potluck, party, or game day. They're also easily customizable; just swap out ingredients for your favorite pizza toppings, and you'll have a quick and easy two-bite snack!
Whip up these delicious bite-sized air fryer pizza wontons for a snack that will disappear from the table in no time! Satisfyingly crispy wontons filled with rich marinara sauce, flavorful pepperoni, and gooey cheese make for a dish full of fantastic pizza flavor.
What are Air Fryer Pizza Wontons?
Air Fryer Pizza Wontons are a delicious pizza treat in a bite-sized snack. Wonton wrappers are filled with marinara sauce, cheese, and pepperoni, then folded up like a wonton and placed in the air fryer. When sprayed lightly with olive oil, these pizza wontons get nice and crispy, leaving you with a soft cheesy inside and crunchy outside.
How Do I Store Air Fryer Pizza Wontons?
Store leftover pizza wontons in an airtight container in the fridge for up to three days. Allow them to cool first before covering with a lid, or the moisture build up will make them soft or soggy.
Can I Freeze Air Fryer Pizza Wontons?
You can freeze these wontons before or after cooking. Place them on a baking sheet, allow them to freeze, then place them in a bag or container and keep them in the freezer for up to three months. Then, cook them from frozen whenever you need a tasty pizza treat.
Can I Make These Pizza Wontons in the Oven?
There are two ways to cook pizza wontons in the oven.
If you want less oil in this recipe, don't spray the wontons with olive oil. Instead, once they are folded, place the filled wontons on a baking sheet lined with parchment and bake at 375° F for about 8-10 minutes or until browned.

You can also bake these in the oven by placing them on an oven-safe cooling rack, spraying the wontons with olive oil, and then baking them at 375° F for about 8-10 for a pizza wonton that is more fried.
Tips for Making Pizza Wontons
To ensure these pizza wontons get nice and crispy, don't overcrowd the air fryer basket. You may have to make them in batches.
Folding wontons can be tricky. If it's easier, fold them in half to create a triangle and secure the edges together with a bit of warm water.
Each air fryer is different, so cooking times can vary. Adjust your cooking time as needed, and check on the wontons earlier in the cooking time so they don't burn.
Recommended
Pizza Dip Recipe
Crockpot Pizza
Easy Pizza Bites Recipe
Substitutions and Additions
Pepperoni: You can swap out pepperoni for other tasty meat options like sausage or ham. You can also make this recipe vegetarian by skipping the meat altogether.
Cheese: Try different kinds of cheese in this recipe for a flavor twist, like feta or provolone.
Vegetables: Add diced veggies to this recipe for extra flavor, like olives, green peppers, and mushrooms.
More Yummy Recipes You'll Enjoy
If you like this delicious air fryer pizza wontons recipe, you'll want to try some of our other tasty dishes! Try any from the list below.
Chicken Flatbread
Slow Cooker Tater Tot Casserole
Slow Cooker Ravioli Lasagna
Air Fryer Egg Rolls
Air Fryer Coconut Shrimp
Yield: 12
Air Fryer Pizza Wontons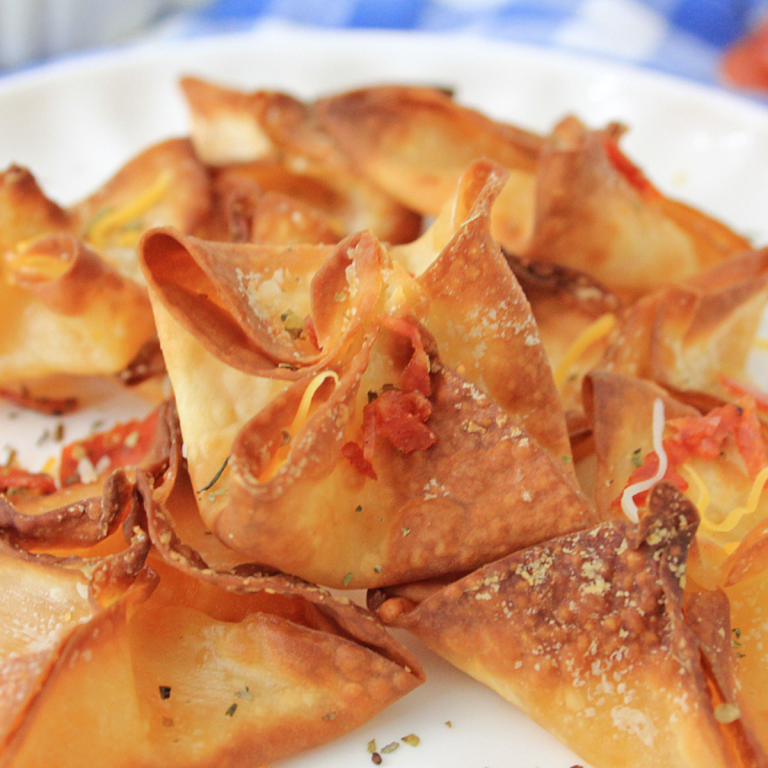 These air fryer pizza wontons are full of delicious pizza flavor inside a satisfyingly crispy wonton.
Ingredients
1 package wonton wrappers
8 oz of your favorite marinara sauce
12 oz package of pepperoni
12 oz package of shredded colby jack cheese or mozzarella
Italian seasoning
spray olive oil
Instructions
Lightly spray the inside of the air fryer basket with olive oil or use an air fryer parchment paper liner.
Take one wonton wrapper and lightly spray it with olive oil, then add 1 tsp of sauce, 1 pepperoni, and 1 tsp of cheese.
Pinch the edges together and place the wonton in the air fryer. When the air fryer is full of wontons, spray them lightly with olive oil, and sprinkle them with Italian seasoning. Cook at 350°F for 12 minutes, flipping them halfway through.
Notes
You'll know these tasty wontons are done when they're lightly browned and crisp. 
Dip your finger in warm water, then run it along the edge of the wonton wrapper so it sticks together and stays closed while cooking.