Air Fryer Bagels (2 Ingredients 10 Minutes)
These Air Fryer Bagels are made with just 2 ingredients – thick and creamy Greek yogurt and self-raising flour! Simply combine the ingredients, shape your bagels, brush them with egg wash, and top them with sesame seeds and seasoning!
These soft and fluffy air fryer bagels will only take 15 minutes to make from start to finish and don't require any yeast or resting time.
Once cooked to golden perfection in the air fryer, let them cool and slice them in half to serve with your favorite spreads like this Instant Pot Pomegranate Jam and Vegan Cream Cheese for breakfast or as a delicious snack.
WHAT YOU SHOULD KNOW ABOUT AIR FRYER BAGELS
This recipe only calls for two main ingredients! Yes, that's right – just two! Self-raising flour and Greek yogurt make soft and fluffy bagel dough that's shaped and egg washed before being cooked in the air fryer. You don't even need yeast!
Feel free to sprinkle sesame seeds, coarse salt, and Everything Bagel seasoning on the freshly assembled bagels once they have been egg-washed for extra flavor and texture.
HOW SHOULD I STORE LEFTOVER AIR FRYER BAGELS?
The two-ingredient air fryer bagels can be stored in an airtight container, wrapped with plastic wrap or aluminum foil, for up to 5 days.
These bagels can also be placed in freezer-safe bags and stored in the freezer for up to 6 months.
HOW SHOULD I REHEAT LEFTOVER BAGELS?
You can reheat leftover bagels in the microwave for 20-30 seconds or pop them back into the air fryer for 1-2 minutes.
Be sure to keep a close watch so you don't burn the bagels while reheating them. I recommend thawing frozen leftover bagels in the fridge or at room temperature before reheating them.
WHAT TOPPINGS CAN I ADD TO MY AIR FRYER BAGELS?
I love sprinkling sesame seeds, coarse salt, and Everything Bagel seasoning onto the tops of my freshly assembled bagels just before cooking them in the air fryer.
Here are some other great topping ideas to choose from:
Freshly grated cheese, such as Parmesan, Asiago, cheddar, or mozzarella.
Other kinds of seeds, such as poppy seeds and sunflower seeds.
Other spices and seasonings, such as Italian seasoning or herbs, garlic powder, onion powder, or smoked paprika.
WHAT IS SELF-RAISING FLOUR?
Self-raising flour is a flour mixture that includes ingredients such as baking powder and salt, thereby eliminating the need to add baking powder as a separate ingredient to help the bagel rise while baking.
WHAT VARIATIONS CAN I MAKE TO THESE AIR FRYER BAGELS?
Brush the tops of the assembled bagels with melted butter or milk and cream instead of egg wash.
Make your own self-raising flour by combining all-purpose flour, baking powder, and salt.
Use a different type of thick yogurt, such as coconut or soy yogurt. Whatever you choose, the yogurt must be unflavored. The yogurt can be whole milk or non-fat to suit your dietary preferences.
Add some herbs and grated cheese to the bagel dough.
TIPS FOR MAKING AIR FRYER BAGELS
Don't overcrowd the air fryer basket. The bagels will expand and rise while cooking. I've managed to cook 4 bagels at a time in my air fryer, but this may be different for you depending on the size of your air fryer. If in doubt, cook the bagels in batches.
Easily double or triple this recipe when serving a crowd. You will need to cook your bagels in batches in the air fryer.
Always preheat your air fryer before adding the bagels for best results.
Once cooked and cooled, slice your bagels in half and serve them with homemade butter, cream cheese, freshly sliced fruit, jam, peanut butter, or whatever your heart desires!
Similar Recipes To Try
Yield: 4 Bagels
Easy Air Fryer Bagels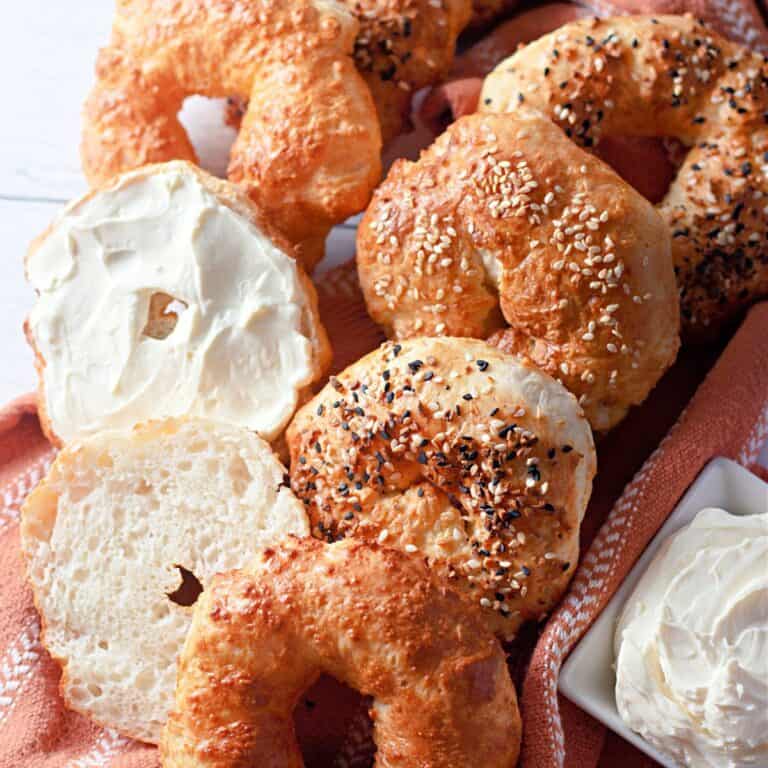 These air fryer bagels are great way to enjoy bagels without having to go to the store! PLUS there's only 2 main ingredients...everything else is for flavoring and shine on the bagels.
Ingredients
1 cup self rising flour
1 cup plain Greek yogurt (whole milk or non-fat)
1 egg
1 tablespoon water
Bagel toppings of choice: sesame seeds, coarse salt, everything bagel seasoning, etc. (optional)
Instructions
In a medium sized bowl, add the Greek yogurt and self rising flour, and mix well with a spatula until the mixture turns into a sticky dough. Form the dough into a ball. It will be tacky.
Cut the dough ball into 4 equal pieces. On a lightly floured surface, roll each dough ball out into an 8-inch long rope, then bring the edges together to form a bagel shape, pinching the ends of the dough together to close the circle.
Lightly grease the bottom of the air fryer basket with non-stick cooking spray. Place the bagels into the basket, leaving about an inch of space between each. Note: if your air fryer is small, you may need to cook the bagels in two batches.
In a small bowl, whisk together the egg and water. Lightly brush the egg wash over the top and sides of the bagels. Sprinkle toppings over the bagels.
Air fry the bagels at 350F for 10 minutes until risen and golden brown.
Remove the air fryer basket from the air fryer and allow the bagels to cool for 5 minutes. Remove the bagels, slice and serve warm, or cool completely then toast.