Air Fryer Accordion Potatoes
These crunchy, crispy, flavorful air fryer accordion potatoes are the perfect side dish for any meal. They cook super fast and only need 4 ingredients!
So cute on a plate with a hot dog or a burger, and kind of fancy with grilled seafood or steak, accordion potatoes can be served with just about anything.
And, because their accordion shape gives them so many extra edges and sides, your potatoes get extra crispy and delicious!
What Are Air Fryer Accordion Potatoes?
Air Fryer Accordion Potatoes are a savory potato side dish perfect for serving with hamburgers, roasted chicken, or even by themselves as a snack. The accordion cut is a fun way to mix up a plain old potato, and it's deceivingly simple. You don't need any special equipment– just a sharp knife and a pair of chopsticks.
Can I make air fryer potatoes without oil?
Air frying is a great method for cooking with less oil since most recipes call for just enough oil to barely coat the food you're cooking. However, oil is important for many recipes as it helps foods like potatoes get super crispy in the air fryer. If you're worried about using too much oil, you can coat the potatoes in a few sprays of a non-stick cooking spray. You can still make these potatoes without any oil at all, but they won't get nearly as crisp.
Do I need to boil the potatoes before air frying?
Boiling the potatoes before air frying them is not necessary! The air fryer is great at cooking the potatoes' inside and giving them a crisp exterior. This recipe calls for the potatoes to be cooked at a relatively low heat, giving them plenty of time to both cook through and become nice and crunchy on the outside.
Recommended
Air Fryer Pizza Wontons
Air Fryer Pear Tarts
Air Fryer Egg Rolls
Tips & Recipe Notes
If you don't have chopsticks to help slice the potatoes, you can also use some skewers or butter knives to help guide your cuts.
Don't forget to flip the potatoes halfway through cooking to ensure even crispiness all around.
Ingredient Substitutions
Olive oil tastes great, but this recipe works with canola, avocado, or vegetable oil.
You can use any seasonings you'd like. Salt and pepper is a classic combination, but other spices you could use are

Rosemary
Thyme
Garlic Powder
Crushed red pepper flakes
Za'atar
Italian seasoning
Ranch seasoning

This recipe calls for gold potatoes but can also be made with red or Russet potatoes. Just be aware that these kinds of potatoes may not get quite as crispy as the gold potatoes will!
Can I make air fryer accordion potatoes for breakfast?
These potatoes are a blank canvas for anything you want to serve them with! For breakfast, pair with crispy bacon and scrambled eggs for a satisfying start to the day. You could have them on the side of a delicious salad made with tomatoes, peppers, and grilled chicken at lunch. For dinner, serve them alongside a steak and roasted asparagus for a simple but elegant meal. These potatoes are so versatile!
How Do I Store Air Fryer Accordion Potatoes?
These potatoes will keep in an airtight container in the refrigerator for up to 3 days. I don't recommend freezing these potatoes as their quality can be affected by the freezing and thawing process.
How to Reheat Air Fryer Accordion Potatoes
Reheat them by putting them back into the air fryer for a few minutes, or heat them in the oven or a pan. In the air fryer or oven, heat them at 350° for about 10 minutes or until heated through and crisp.
FAQs
Is it healthy to put potatoes in an air fryer?
Whether or not something is healthy is very dependent on your own dietary needs, but here's a bit of helpful information. Air frying over deep frying uses far less oil, so your cooked potatoes contain much less fat. It also cuts down the added calories by as much as 80%! Air frying potatoes is definitely a good choice for you if deep fried foods upset your stomach or make you feel bloated.
Do you have to pierce a potato before baking in an air fryer?
If you were air frying a whole potato (like a baked potato), yes, you definitely should poke holes or cut slices in your potato first. However, in the case of accordion potatoes, you don't need to poke any extra holes, since your potato has been cut.
Why are my air fryer potatoes soggy or mushy?
If your potatoes end up soggy or mushy, it's likely that you didn't cook them long enough, that you didn't fully preheat your air fryer before you put them it, or you didn't leave any space between them and they were overlapping. If you've got soggy potatoes on your hands, you can spread them out more in the air fryer, fully reheat it, then cook your potatoes for another few minutes.
More Yummy Potato Recipes You'll Love
Slow Cooker Cheesy Potatoes
Potatoes Au Gratin
Instant Pot Potato Leek Soup
Instant Pot Loaded Baked Potatoes
Yield: 4 Servings
Air Fryer Accordion Potatoes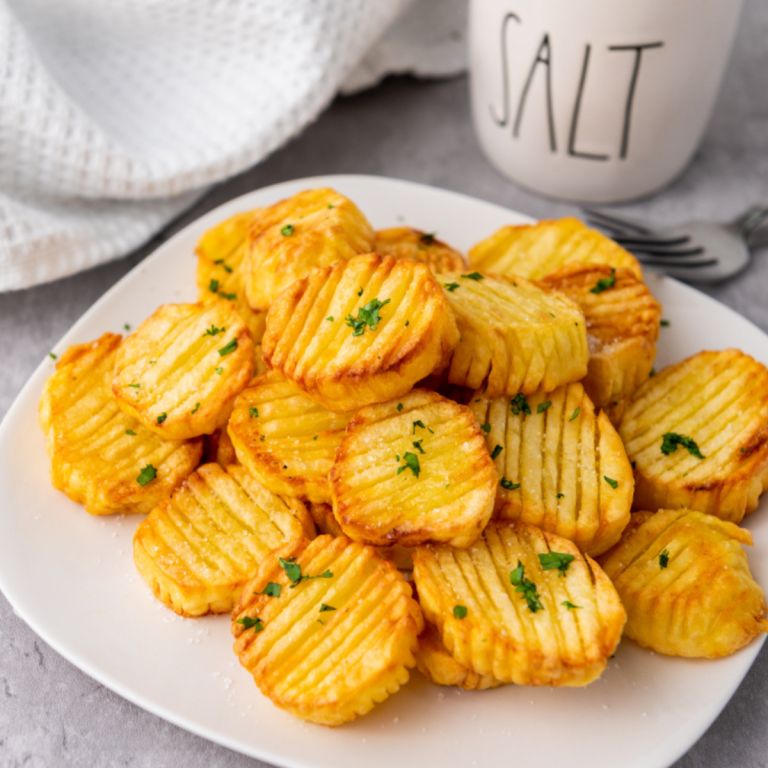 These crunchy, savory potato slices are perfect as a side dish or appetizer for any meal.
Ingredients
2 lbs Golden potatoes
1.5 tbsp olive oil
Salt and pepper, to taste
Instructions
Peel the potatoes and rinse them under cold water. Then dab them dry using kitchen towels.
Slice the potatoes in quarter to half-inch pieces.
Place a chopstick on each side of a potato slice. This ensures they aren't cut all the way through. Use a knife to make thin horizontal cuts across the potato.
Then, flip the potato slices over and cut the other side diagonally. Repeat steps 3 and 4 with all of the potato slices.
Cover the potatoes with olive oil and season with salt.
Put them in the air fryer for 30-35 minutes at 350 degrees or until golden brown. Make sure to flip them over halfway through cooking so both sides get evenly crispy.
Serve while hot.