4th of July Rice Krispie Treats
Celebrate the home of the brave with these red, white, and blue 4th of July Rice Krispie Treats! They're every bit as delicious as the classic, with some extra pizzazz mixed in! If you thought the original was yummy (don't we all!), you'll adore this holiday version with M&Ms, mini marshmallows, and sprinkles folded right into the chewy Rice Krispie Squares. And in case that wasn't enough, the tops are decorated with a simple candy melt drizzle that looks as impressive as it is festive.
Nobody has to know how easy these Red, White, and Blue Rice Krispies Treats are to make. But seriously, they're really simple. You melt the butter and marshmallows like always, stir in the cereal, and fold in some extra yummy treats! That's it!
And, if you want to get fancy for the 4th, you can drizzle on some candy melts and add a few more decorations. Easy as apple pie? Even easier if you ask me. Plus, this recipe gives you perfectly chewy, never-too-hard Rice Krispie Treats.
Why do love these 4th of July Rice Krispie Treats?
We love Rice Krispie Treats because they're delicious, of course! It's hard to find a person who doesn't like them. Their chewy texture and light, sweet flavor make them hard to resist. But people also enjoy rice crispy treats because they're primarily a simple carbohydrate, so they can give you a noticeable boost of energy before a big game, workout, or recreational activity. They're also convenient to take with you in your gym bag or purse and are easy to consume.
These 4th of July Rice Krispie Treats are easy to make, and are the perfect finger food to bring to any BBQ you might be attending!
Are Rice Krispies Treats a No-Bake Dessert?
Yes, Rice Krispie Treats are a no-bake dessert, but you do still need to do a tiny bit of cooking on the stovetop. The good thing is, Rice Krispie Squares only require three main ingredients and a couple minutes of your time. If you want to get fancy, you can add decorations, but the basic recipe requires you to simply melt butter and marshmallows in a pan and stir in the Rice Krispies cereal. You can add in some vanilla and salt if you wish.
Recommended
Easy Homemade Marshmallows
Instant Pot Chocolate Cheesecake
Instant Pot Bananas Foster Cheesecake
Tips and Recipe Notes
Rice Krispie Treats aren't complicated to make, but you can end up with squares that are either dry or too sticky if you're not careful. Here are some tips to help make sure these are perfect every time:
Measure carefully. The recipe is simple, but the outcome can be delicate. Even just a little bit too much cereal, and your squares will be dry. Too much butter, and they're gooey and never properly set. So check your measurements twice to be sure they're correct.
Use fresh marshmallows for the best results. Stale marshmallows don't usually melt as smoothly.
Lightly coat your mixing spoon or spatula with cooking spray before stirring the marshmallow mixture and pressing it into the pan. This really helps stop the mixture from sticking to the spoon.
Grease your baking pan or dish with butter or cooking spray before pressing the mixture to stop the cereal from sticking.
Don't press your treats too tightly into the pan. They'll end up tough to eat. Just press them lightly until they've made an even layer in the pan.
Refrigerate your treats to allow them to firm up more quickly.
Rice Krispies Treat for Every Occasion
Now that you have this easy recipe on hand, you can reinvent it for just about any holiday. Here are a few ideas:
For Easter, try these Mini Egg Rice Krispie Treats
At Christmas, use red and green M&Ms, sprinkles, and candy melts
For New Year's Eve, use blue candy melts and silver and gold glitter on top
For a St. Patrick's Day party, make this Lucky Charms version
Around Valentine's Day, replace the M&Ms, sprinkles, and candy melts with the red and pink varieties of each
For a birthday treat, use confetti sprinkles and a mixture of the birthday boy or girl's favorite colors for candy melts.
The possibilities are endless, so have some fun creating your own unique combinations!
How to Store
In the fridge – Place the Rice Krispie Treats in an airtight container or cover them tightly with plastic wrap. They can stay fresh in the refrigerator for up to 3 days. They'll get a bit harder each day, so try to eat them up while they're still pretty fresh!
In the freezer – If you have more treats than you can eat, you can freeze them for later. Wrap each treat individually in plastic wrap and place them in a freezer bag. They can be stored in the freezer for up to 2 months.
Can I Make This Ahead?
Absolutely! These treats can be made up to a day in advance. Just be sure to store them properly in an airtight container in the refrigerator to keep them fresh. Please note that the colors from the candy melts and sprinkles might bleed a little overtime, so you might want to add the candy melt topping and decorations just before serving.
You can also freeze these for longer store if you need to make them more than a day in advance. See the instructions above.
FAQs
Can I use other types of cereal instead of Rice Krispies?
Yes! You can experiment with different cereals like Fruity Pebbles or Cocoa Pebbles for a fun twist, but they'll lose a bit of their Independence Day flair!
Can I make these treats without butter?
Yes, you can replace butter with an equal amount of coconut oil, margarine, or a vegan butter substitute.
Can I use homemade marshmallows for this recipe?
Absolutely! Homemade marshmallows can add a unique touch to your treats. Just make sure you have the same quantity as the store-bought ones.
Can I make these treats without using a stovetop?
Yes, you can melt the marshmallows in the microwave. Heat them in 30-second intervals, stirring in between until smooth.
Can I add other mix-ins, like crushed cookies or candies?
Certainly! Crushed Oreos, M&M's, or chopped candies can be added to the mixture for extra flavor and texture, but if you want to keep them festive, look for other red, white, and blue treats to incorporate.
More easy recipes you'll love this summer!
Pineapple Salsa
Air Fryer Brussels Sprouts
Summer Couscous Salad
Kiwi Prosecco Popsicles
Potato Stacks
Yield: 12 Squares
4th of July Rice Krispie Treats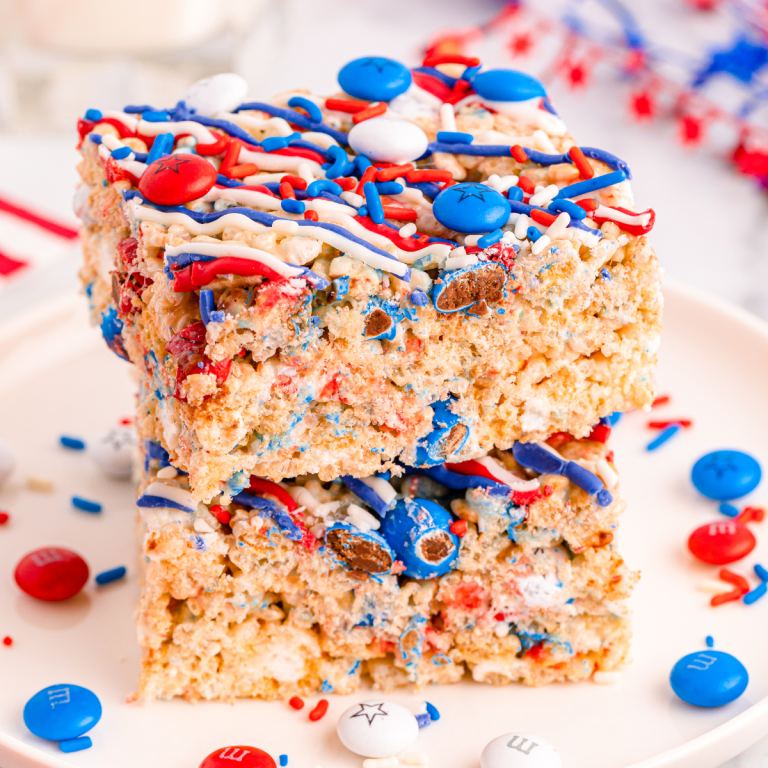 You'll love these adorable 4th of July rice krispie treats! They're an easy patriotic dessert to make.
Total Time
1 hour
15 minutes
Ingredients
1 stick unsalted butter, melted
16 ounces mini marshmallows, divided
1 teaspoon pure vanilla extract
⅛ teaspoon salt
8 cups Rice Krispies cereal
¾ cup red, white, and blue M&M's
¼ cup red, white, and blue sprinkles
¼ cup each red, white, and blue candy melts
Instructions
Line a baking pan with parchment paper and set it aside.
In a large pot over low heat, melt the butter.
Set aside 1 ½ cups of mini marshmallows to mix in later. Add the remaining marshmallows into the pot with the melted butter and stir slowly until fully melted and incorporated.
Remove the pot from the heat and mix in the vanilla extract and salt.
Fold in the Rice Krispies cereal, M&M's, sprinkles, and the 1 ½ cups of mini marshmallows that were set aside earlier. Fold together until evenly distributed and coated. Move quickly so that the chocolate doesn't melt.
Spread the Rice Krispies mix into an even layer in the baking pan and lightly press it in. Do not overly pack it in or it will result in tough to eat treats.
Melt the red, white, and blue candy melts in separate piping bags or bowls. Use a low or defrost microwave setting in 30 second increments to avoid it from overheating and melting the bag.
Snip a small piece of the tip of the piping bag and drizzle over the rice krispie treats. Top with additional M&M's and sprinkles if desired.
Allow it to cool on the counter for 30 minutes to 1 hour before cutting into squares. Enjoy!
Notes
These rice krispie treats are best eaten the same day but you can store leftovers in an airtight container on the counter for up to 2 days. I do not recommend refrigerating as it will harden.