2 Ingredient Weight Watchers Bagels Sticks
You don't have have to be on a weight loss program to be able to enjoy these delicious 2 ingredient Weight Watchers Bagels sticks. This is going to be one of your new favorite recipes to make for when you have a craving for a bagel, and not worry about the guilt. If you haven't seen it, I made a 2 Ingredient WW Monkey Bread bites in an air fryer. Two ingredient Weight Watchers dough is so flexible to use for lots of different recipes, and this is just one example of the delicious fun you can have with it.
What are the items in the 2 Ingredient Weight Watchers Bagels sticks?
I'm glad you asked! Simply put, the the 2 ingredients in the dough is self rising flour and non-fat greek yogurt. The Greek yogurt gives a nice protein boost, and adds enough fat and flavor with the flour to create a great doughy experience. The bonus of it all is that it helps to create a great low SmartPoints carb indulgence product.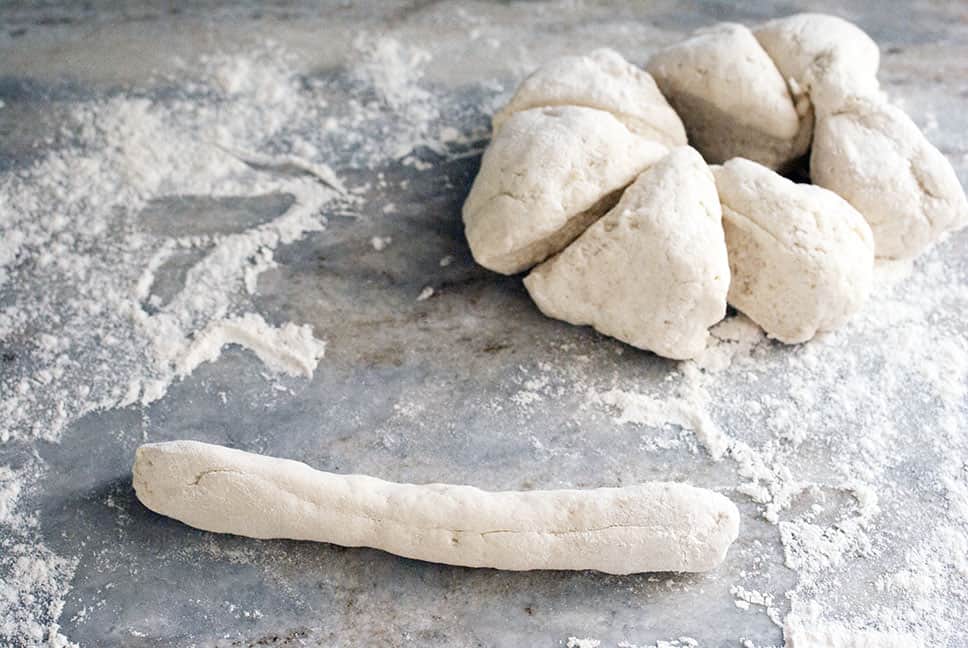 For these 2 ingredient Weight Watchers bagels sticks, we are going to be using the yummy spice known as Trader Joe's Everything But the Bagel Seasoning. If you don't have that, you can easily use either spices and ingredients to jazz them up. Just because to calculate the points for them.
When you form these 2 ingredient Weight Watchers bagels sticks, you have to cut the dough ball into 8 equal parts. I eyeballed the portion sizes; however, you can use a scale to help make sure that your portion sizes are properly sized and measured.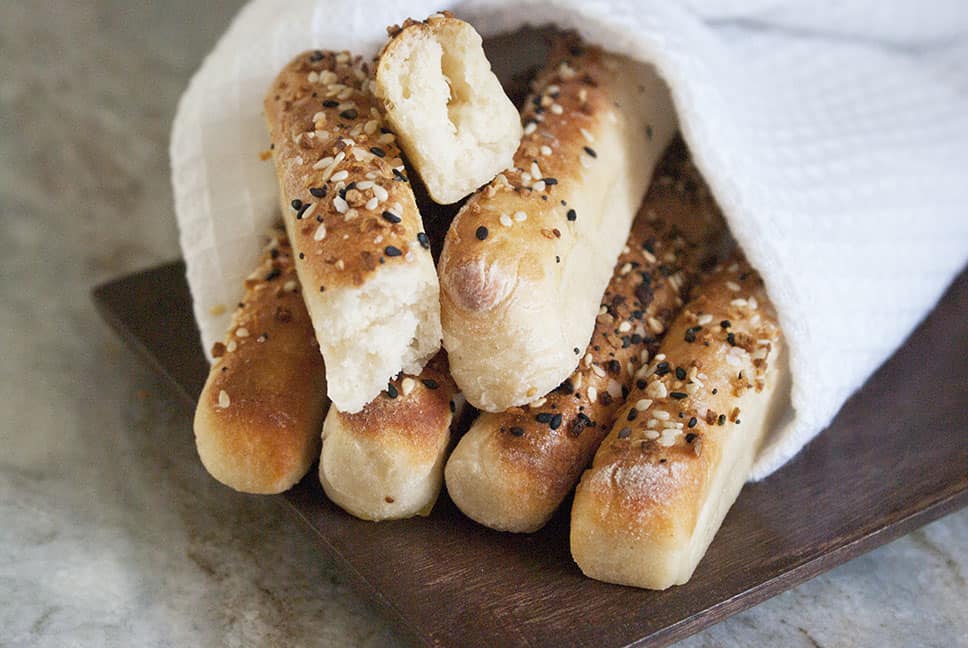 If you're looking for something even more fun, then you can try making these 2 Ingredient Apple Pie bagels. IF you have a sweet tooth, these will totally help you out in a pinch.
How Many SmartPoints do the 2 Ingredient Weight Watchers Bagels Sticks have?
You'll LOVE how many SmartPoints there are in these fabulous bagel sticks. Normally, people make 4 whole bagels out of this recipe. However, I don't always want a whole bagel…sometimes I like just a little nosh with breakfast or as a snack.
A typical bagel that you would get from a bagel shop would have about 11 SmartPoints (on all 3 plans), so you're definitely able down those SmartPoints with this recipe. Below are the SmartPoints.
What mold did I use to make these Air Fryer bagels sticks?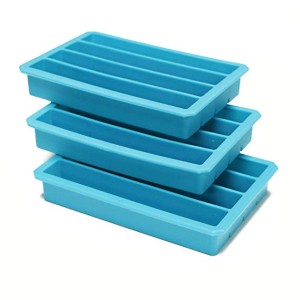 I used these Silicone Molds by WeBake. They were actually designed for ice cubes for water bottles, but since they're made out of a high grade silicone, we can use them for lots of different appliances…like our air fryers and Instant Pots. From -40 to +446 degrees Fahrenheit (-40 to +230 degrees Celsius), these things are designed to take a beating.
I used a little bit of non-stick cooking spray – just enough for a light coat. When you put the 2 ingredient dough into the molds, use a light egg wash on the dough, and then sprinkle the Everything but the bagel seasoning on the dough. I also put a small sprinkle of sea salt on top to add an additional layer of flavor.
How long should you bake the 2 ingredient bagels sticks in the air fryer?
I tested a few options out, and know that each type of air fryer is going to be different. Even more so if you are using a Mealthy CrispLid (like I did for this recipe – be sure to read my review), a NuWave air fryer, and Instant Pot Air Fryer lid, or other types of air fryers. With using the CrispLid, I used the standard air fryer trivet that came with it. For these 2 ingredient bagels sticks, I found that baking them at 325° for 12 minutes wound up being perfect.
The temperature and time created a nice browning effect to top, while the hot air circulating around the silicone molds were able to effectively cook the bottom thoroughly. A higher temperature of 350° wound up cooking the top entirely, but the bottom middle portions were still a tad bit doughy.
When the 2 ingredient bagels are done cooking in your air fryer, allow them to cool off and sit in the mold for approximately 5 minutes, and then transfer over to a wire wrack to finish cooling for about another 2-4 minutes before eating. If you have a lower sitting air fryer, then I would add an additional minute or two. Be sure to check on to make sure that it's cooked thoroughly. Just remember, it will be hot…so please be sure to take precautions and allow to cool.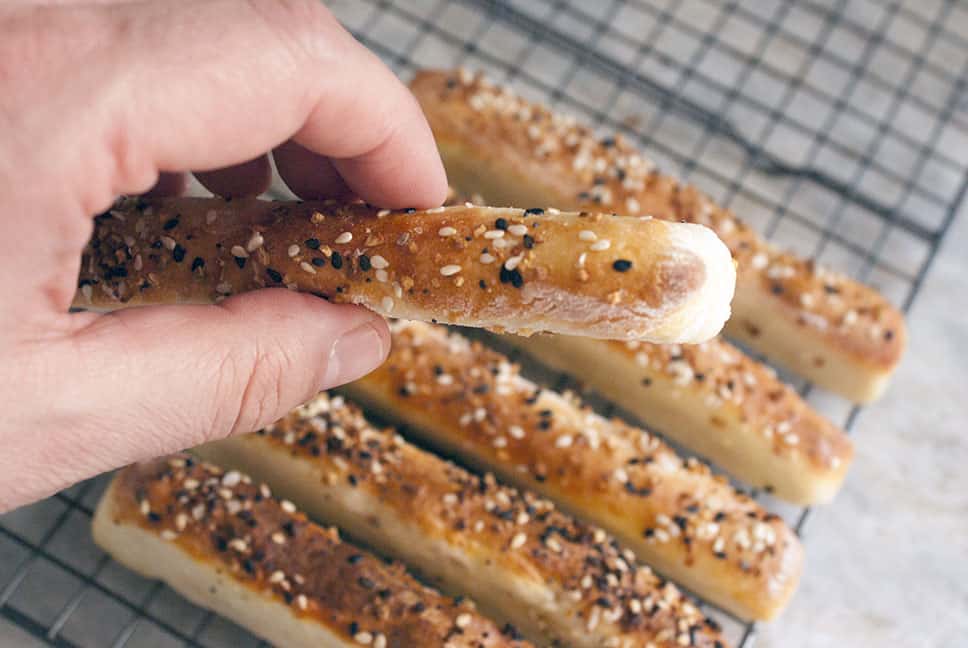 I hope enjoy the recipe, and let me know what you think in the comments. Do you love Air Fryer recipes? Make sure you try my Air Fryer Buffalo Cauliflower bites. They're delicious, and Zero Points!
Looking for More WW Recipes and info? Take a look at these!
Are you looking for a supportive community and a place to find/share fabulous WW Instant Pot recipes? Then join by Clicking Here.